Regular price
$69.99 USD
Sale price
$60.99 USD
Unit price
per
Sale
Sold out
【115Oz/3.4L Large Capacity & Water Indicator】- The dog water fountain has a 3.4L/115oz large capacity, which is suitable for small and medium-sized pets. The dog water dispenser is built with a Water level buoy, You can see the change of water level at any time and replenish water in time. It can last up to 2 weeks when filled with water. It does not require frequent refilling, so even if you are away for a few days, you do not have to worry about your pet's drinking water.
Dual Filtration pet water fountain

Filter hair, debris, and large particles to remove odor and impurities. Protect the drinking water health of pets such as cats and dogs.
The water goes through multiple filters and the pump continuously delivers clean water to the top cover.
Faucet Design & Water Level Indicator Buoy
Cats like to drink naturally flowing water, which they believe tastes good and is safer. The faucet model cat fountain is a good illustration of flowing tap water, making it more enjoyable for your cat to drink. The water level enables the owner to be clearly aware of the need to add water.
Dishwasher Safe
Moebypet cat water fountain is made of 304 stainless steel, BPA-Free. It is very easy to clean and care for, put the water storage tank and the water storage tray in the dishwasher to clean. It makes a great gift for a pet family.
Share
View full details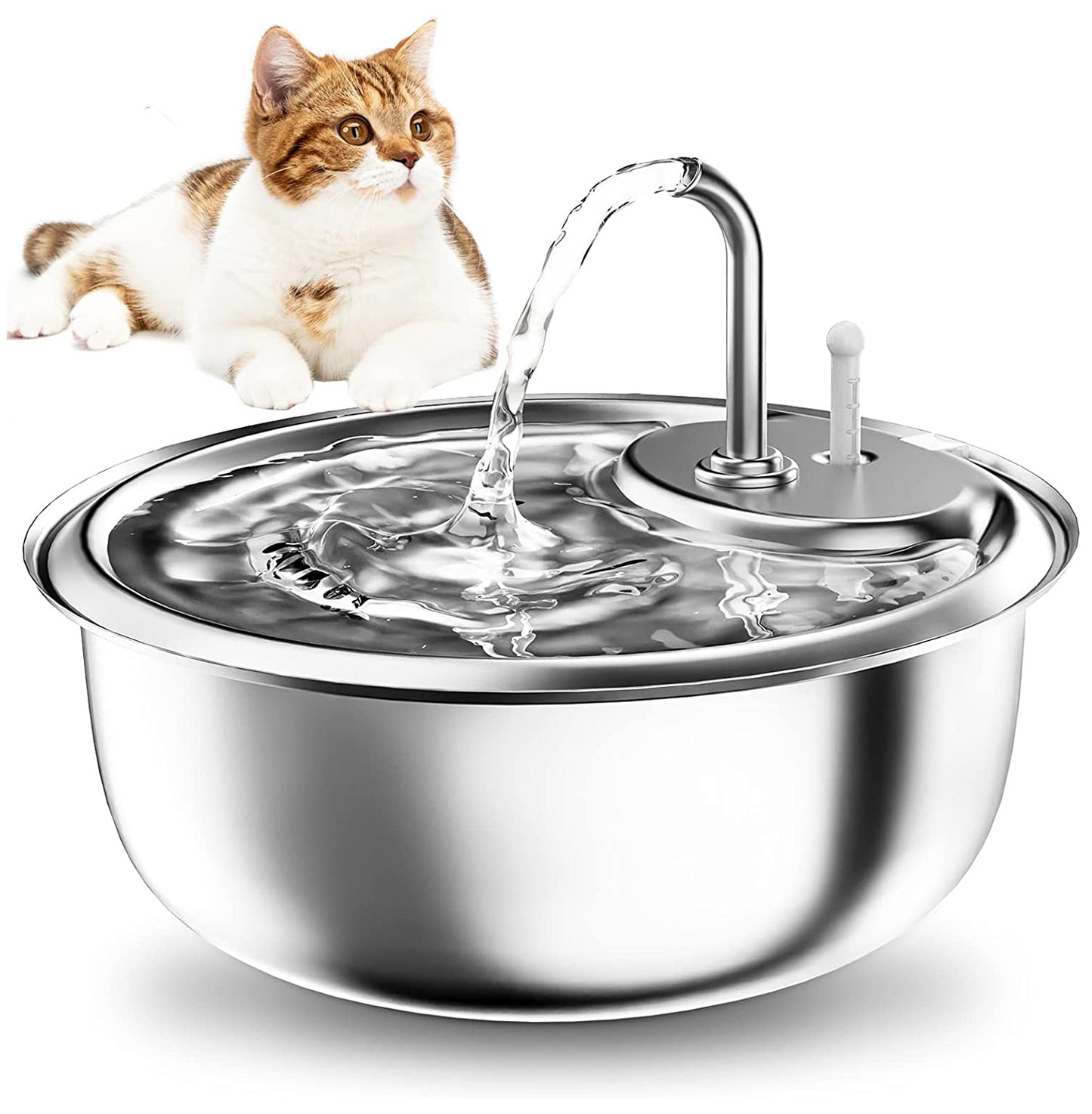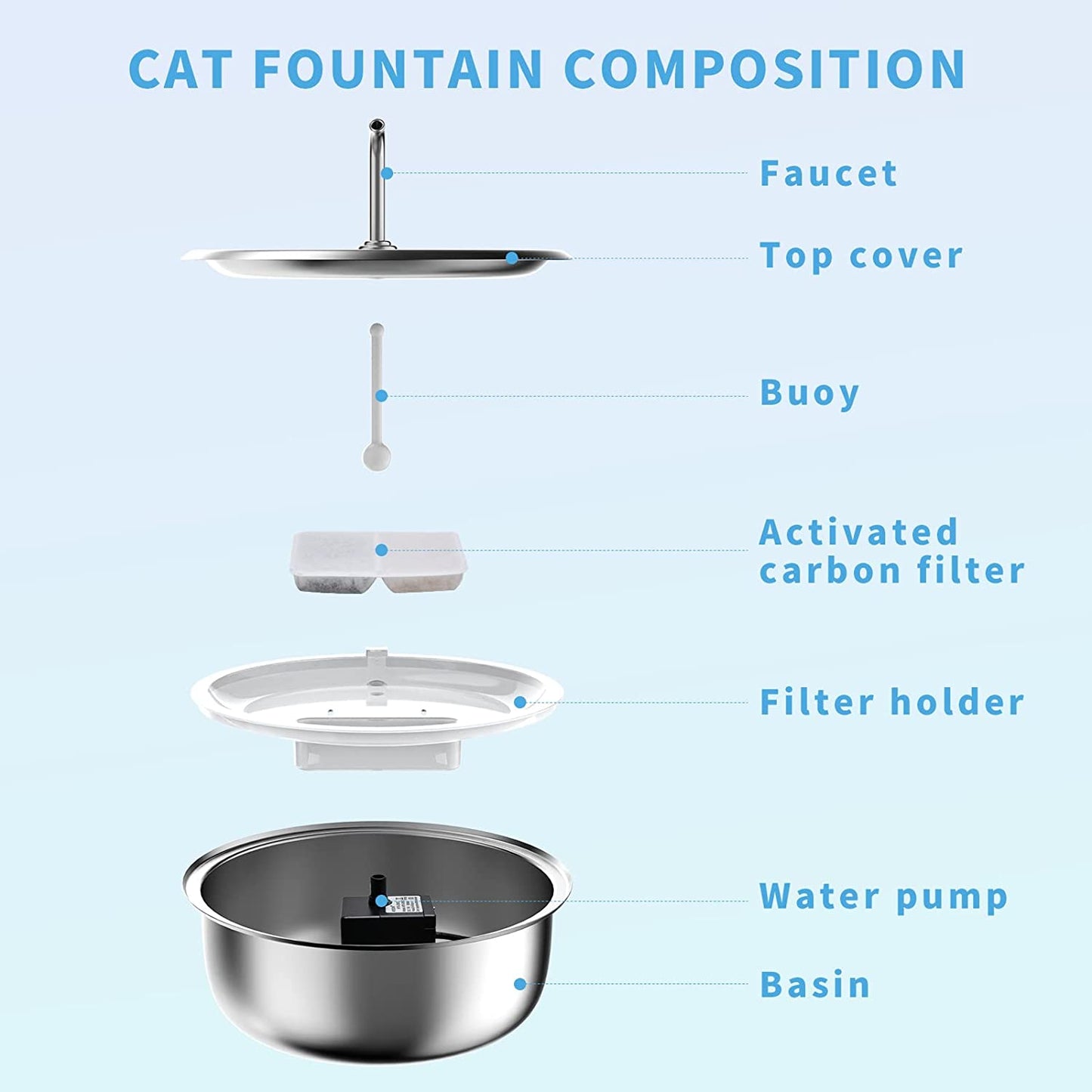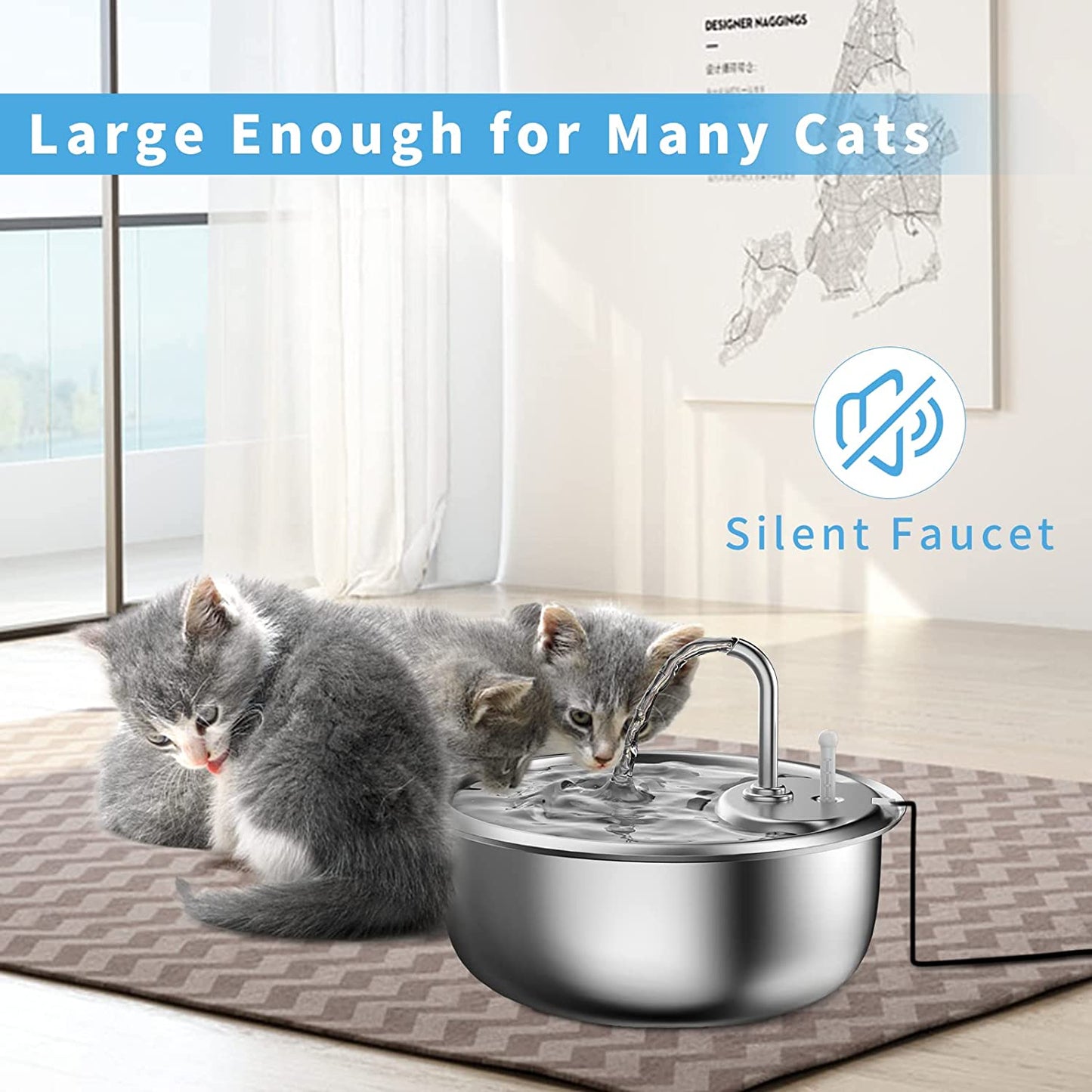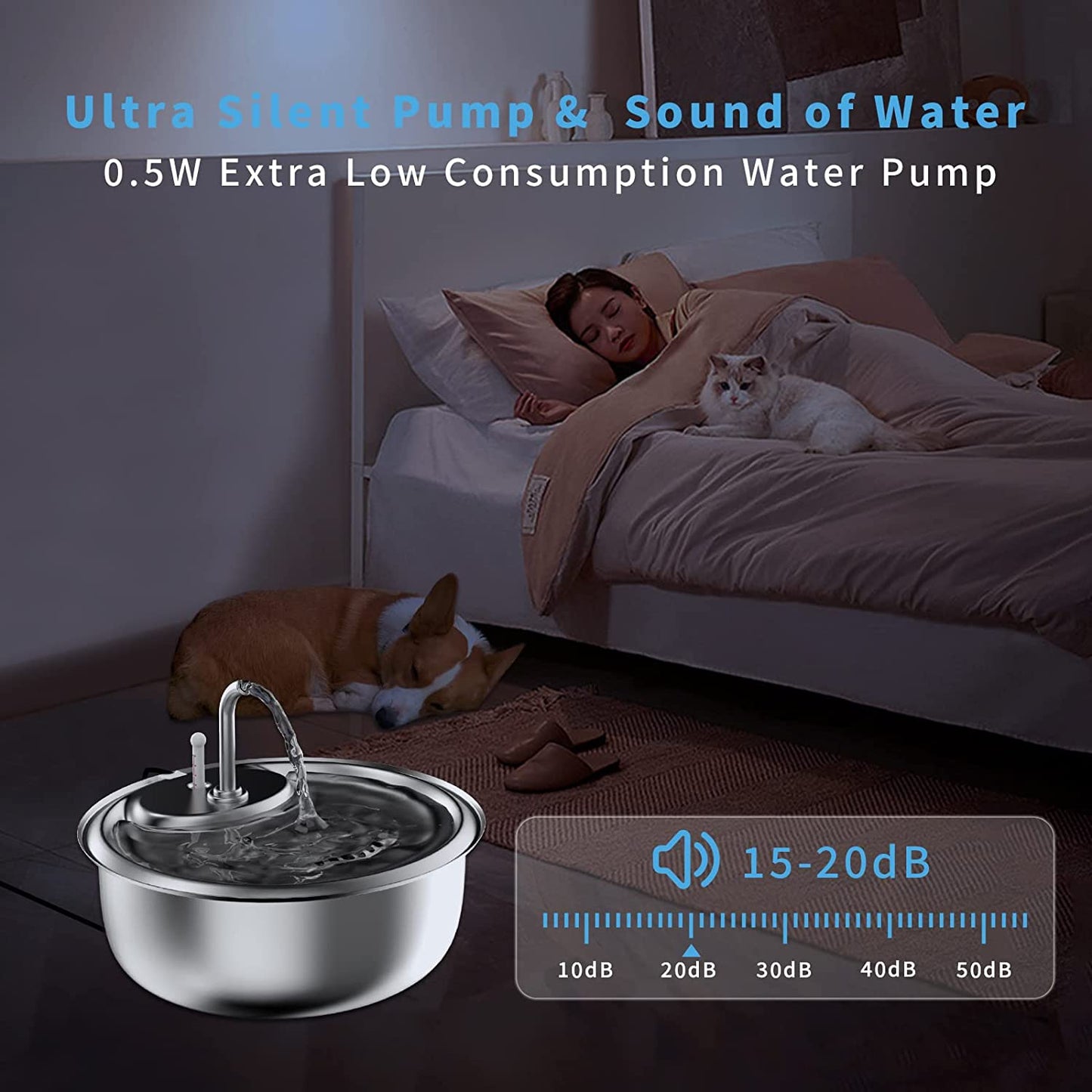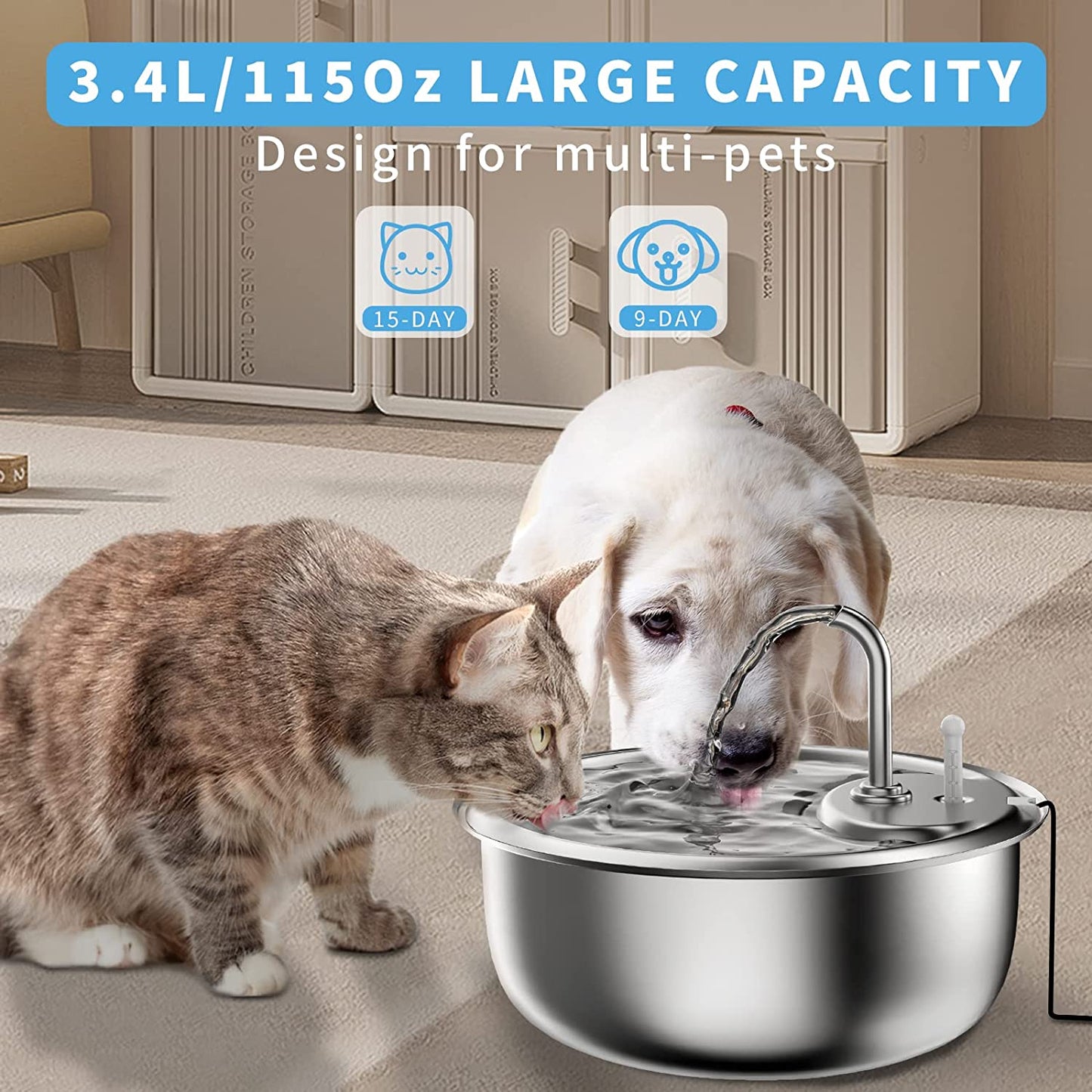 Simple and silent
PRO
- Suprisingly completely silent. No waterfall or dribbling at all.
- Buoy is a nice indicator for how much water is left without having to open it.
- Fairly easy to take apart and back together.
- Drainage looks like a smile. ??
CON
- Protective blue film will not come completely off no matter that I do. Very irritating.
- Not super confident in how secure the pump is to the base connector. It kept easily falling off. The wires smooshed in between small plastic bits are sort of keeping it in place.
Large and quiet pet fountain
First Impression C This cat water fountain is about 90% stainless steel, with an interior plastic tray under the top steel tray. It's easy to clean and the basin has some nice grippy silicone dots on the base to keep it from sliding around.
Ease Of Use C This was simple to set up and the instructions were relatively clear, although there were some issues getting the steel tray, plastic tray, and bottom basin to line up properly.
Positives C Steel is easy to toss in the dishwasher or to give a quick scrub in the sink. The fountain is powerful and quiet. It has a floating water level indicator so you can see when it's about time to clean and refill the basin.
Negatives C Because there were some issues getting the two trays to line up with the basin, and the lip holding them in place is quite shallow, it feels like it might be easy to dislodge by a more aggressive drinker than my cat is. A large dog could knock the tray off without much effort. This also has a plastic tray, so it's not completely steel like some other models available.
Cost Vs. Quality C The mostly steel construction makes this a decent quality pet fountain, but I would suggest using it for a cat, or a dog that's a delicate drinker due to the ability to dislodge the tray easily. The pump is quieter than the fountain my mom currently has, although once in a while the float that shows the water level gets caught in a current and rattles in the tray. It's not often, and it's not crazy loud, just notable if you want absolute silence.
Bon produit
C'est vraiment trs abordable et on en a pour longtemps
The cats love it, so do I
This thing is great all around.
It's dead silent, which is more than can be said about my last fountain for the cats, I didn't even realize it had started when I plugged it in. The reservoir is massive and I only need to refill it every 2-3 days, and the bobber makes it super easy to know just how much your furballs have left.
My only gripe is that the protective film on the stainless steel top was an annoyance. Mine had torn in a way that made it nigh impossible to pick out the last bits around the fountain nozzle, so I wound up unbending the metal holding it in. This did lead to the nozzle being a bit loose while disassembled, but once the whole unit is together it's not a problem. It wouldn't take much to tighten that back up either, I just couldn't be bothered to take it out to the shop.
That being said, overall wonderful pickup for you and the kitties.
Great product
This item performs as advertised. Very quite!